Jump Into Scuba Diving For Fun And Adventure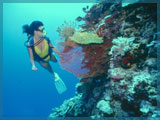 Scuba diving opens up an adventure that's unimaginable for those with land legs. The wonders that lie beneath the water's surface are amazing. From the oceans and lakes to hidden caves and more, those who scuba see things that can only be imagined from the land.
Scuba Diving with Club Med in Turks and Caicos
by Clint Leung
One scuba diving vacation option for divers is with the Club Med resorts that offer intensive dive programs. These particular Club Med locations have full service scuba diving centers staffed by PADI and NAUI certified instructors as well as full equipment rentals. Club Med has locations with dive intensive programs in the Caribbean and the South Pacific. One such resort is the Club Med Turkoise in the Turks and Caicos islands located southeast of the Bahamas. While these islands are not the lushest in the Caribbean, they do have excellent coral reef systems making it a top scuba diving destination in the region.
For those scuba divers who do not want to be bothered with transit between hotels, restaurants and dive boats, Club Meds are a wonderful option since everything is on site. Like other high end all-inclusive resorts, Club Meds have excellent dining, decent rooms plus great facilities for water and land sports. A bonus feature of Club Meds is the inclusion of instruction for many activities such as sailing and water skiing as well as the nightly entertainment on stage.
As for the scuba diving programs which are offered at additional cost, they usually offer standard five day packages which include a two tank trip every morning plus a weekly night dive. There are optional single tank dives in the afternoon as well. In my estimation, the Club Med Turkoise location I went to had 50% divers and 50% non-divers. It was kind of funny to see that the guests who go to bed the earliest in the evenings and show up in the dining room first thing in the mornings are the scuba divers. Many divers I met were repeat guests. This proves that the Club Med is able to attract a loyal following among some scuba divers. The resort is ideal for couples where one spouse is a diver and the other is not. There are plenty of other activities on site for the non-diving spouse to do while the other is out diving. Later in the afternoon, couples or friends could get back together to do other activities or simply relax. I went to this Club Med as a single traveler and had no problems fitting in. The dining room staff usually asks guests whether they would like to sit with a singles table or one with couples. The advantage of this Club Med setup is that it is very easy to meet other guests on a social level. I ended up socializing and diving with people from Europe as well as North America.
The Club Med dive boats are huge. These boats have rows along each side and another row in the center. They are 'cattle' boats for sure as there can be as much as 40 divers for each trip. However, they are nice 'cattle' boats with two ladders in the back platform and a large upper deck for the boat ride. A very nice feature of these boats is that there are two safety stop bars below the boat at the 15 feet mark. These bars are excellent for beginner scuba divers who still have problems remaining at a level 15 feet for their safety stops. All they have to do is hold on to the safety stop bar and wait for the 3 minutes. On each bar, there is also a regulator for those who are low on air. Scuba divers can dive in either guided groups led by a divemaster or in their own buddy groups. Either way, there is an adequate briefing before each dive. The guided groups are particularly good for divers who do not want to worry about navigation.
The diving at Turks and Caicos is wonderful with steep walls during the first part of each dive. The return portion of each dive will generally be over a reef system with lots of small to medium size marine life. One resident barracuda nicknamed Charlie is often seen and likes to hang out between the safety stop bars checking out the divers. In general, the diving is similar to that in the Bahamas but you won't find crowds of dive boats out in the water here since Turks and Caicos are not as saturated with dive operators and tourists yet. For an extra charge, it is possible for the resort to arrange a 3 tank day trip with an outside scuba operator to dive some sites further out that have larger marine life. Some divers took this option and returned with very positive reviews of multiple shark sightings.
If scuba divers are interested in going to a Club Med, it is important to verify which locations currently offer the intensive dive programs. Different Club Meds also have different atmospheres. Some are livelier with a party scene and some are quieter. Consulting a travel agent familiar with Club Meds will be useful. Club Med does have a good scuba diving program with very professional staff and is an option worth checking out if one doesn't mind being on dive trips with relatively large numbers of divers.
About the Author
Clint Leung is a NAUI certified Master and Rescue Scuba Diver. He is also owner of Free Spirit Activewear (http://www.FreeSpiritActivewear.com) , an online retailer/designer specializing in premium quality scuba diving activewear. Free Spirit Activewear has numerous information resource articles on scuba diving as well as free eCards.