Jump Into Scuba Diving For Fun And Adventure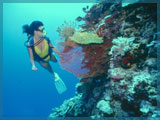 Scuba diving opens up an adventure that's unimaginable for those with land legs. The wonders that lie beneath the water's surface are amazing. From the oceans and lakes to hidden caves and more, those who scuba see things that can only be imagined from the land.
EQUIPMENT
A Look at Scuba Wet Suits
Scuba wet suits were not taken seriously until World War II and the advent of Navy Frogmen (SEALs) who became one of America's most effective weapons of the war. On any kind of measurable basis, costs of operations versus costs of effectiveness, man-to-man, or overall kill ratios, the SEALs exceeded expectations on any level. Once recognized, the military put a much time and money into improving the effectiveness of its frogmen. That meant improving the design, effectiveness and durability of wet suits.
A Look at Wet Suits for Kids
Other than youth wet suits that contain built-in flotation devices -- or the odd, extremely expensive wet suit made for that tiny scuba diver or mini-athlete in the family -- these swimsuits for kids are mostly about style.
Costs to Purchase and Maintain Scuba Diving Equipment
The costs of scuba diving equipment can easily run over $1,000 dollars. Although renting is always an option, for a diver that is developing a long term interest in this sport, purchasing is worth your while, not just in money but also in the quality of your scuba equipment.
How do I choose a scuba and snorkeling mask?
Your basic scuba masks consist of a silicon seal that acts as a suction on your face preventing water from entering.

What are the MOST IMPORTANT things look for in buying a scuba mask or snorkeling mask?
[
Read More
]
Traveling With Scuba Dive Gear and Equipment
With today's state of air travel and airport security, scuba divers often have to decide how to travel with all their dive gear. For those scuba divers who plan to rent all their equipment at their destination, this isn't an issue. However, the trend in diving has always been that as divers become more experienced with more dives logged after initial open water certifications, they tend to want to use their own equipment rather than rent. This is especially true with masks, regulators, wetsuits and dive computers. Avid scuba divers will often travel with their entire gear including fins and buoyancy compensators. Of course because of weight issues, scuba divers rarely travel with tanks or weights.